The Prisma Plus Functional System
The prisma plus functional system can be used for all types of low-voltage distribution switchboard up to 630A, in commercial and industrial environments.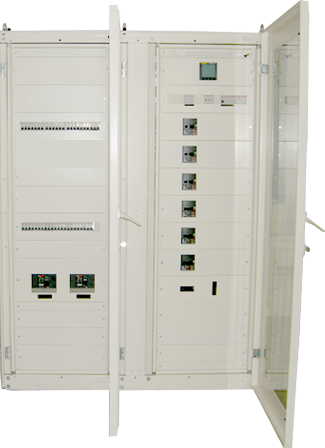 Switchboard design is very simple
A functional structure for devices made up of wall- mountes and floor - standing enclosure that can be used alone or combined.
A distribution system
Made up of centralised distribution blocks and vertical busbar s installed on the side or in the rear of the switchboard.
Complete functional units
Each devices is part of a functional unit comprising:
A dedicated mounting plate for device installation.
A front plate to block direct access to live parts.
Prefabricated busbar connections.
System for on-site connections and running of auxiliary wires.
The functional units are modular and are arranged rationally, one on top of another, within the enclosure. The system includes everything required for functional unit mounting, supply and on-site connection.
The components of the prisma plus system and those of the functional units in particular have been designed and tested taking into account devices characteristics. This design approach ensures a high degree of reliability in system operation and optimum safety for personnel.
Advantages of The Prisma Plus System G switchboards
A dependable electrical installation the total compatibility of Schneider devices with the prisma plus system is a key advantage in ensuring a high level of installation dependability.
System design has been validated by type tests and benefits from the combined experience of Schneider customers over many years.
Thanks to modular design, prisma plus switchboard can be modified easily to integrate new functional units as needed. Maintenance operations, carried ou with the switchboard de-energised, are fast and straight-forward due to easy access to devices and the use of standard components.
Total safety for personnel
Devices are installed behind protective front plates: only the operating handles are accessible. The electrical installation and operating personnel are fully protected.
In addition, all distribution components are protected by an IPxxB degree of protected.